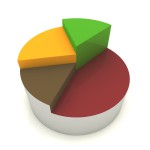 Welcome to the Market Update, our monthly examination of South Central Wisconsin's residential real estate market. This report uses market-wide data based on transactions that closed in August of 2012 and compares them to closings that took place during the same months over the past three years. Closings typically occur eight to 12 weeks after a contract is signed; for that reason, the sales activity shown here reflects actual market conditions.
Are We There Yet?
Sin
middle of last year – June to be exact – Dane County monthly home sales have exceeded those of the prior year with just one exception (and that month was a tie). Each month the question is posed: has the housing market recovered? And each month the answer is: recovery is a process, not an event.ce the
Well, we must be doing well in the process as August sales for Dane County are up a substantial 28.6% for the month and now stand 24.3% ahead of last year. Six of eight counties within the SCWMLS primary region are also ahead for the month and all counties continue to exceed in year-to-date numbers. The entire SCWMLS is ahead of 2011 by 23.2%.
Another bright sign for August is that the median price for Dane County sales is slightly ahead of last year. This is not totally unexpected as inventories of active listings have fallen by more than 20% over last year while sales have increased. In breaking this down further, the months supply of inventory for single family homes in Dane County stands at just 6.9 months, while condominiums have less than 12 months of supply. Six months of supply is generally regarded as representing a balanced market between buyers and sellers.
An additional benefit to having values rise is that more home owners are finding equity in their homes again, after being underwater on their mortgage for the past several years. This is important as we attempt to evaluate the impact of distressed sales (including REO and short sales) on the market. In Dane County, distressed sales reported for August represented 11% of single family sales and 22% of condominium sales. These figures have been fairly consistent since May when we first began collecting this information. Cash sales – which often represent investor activity-remained at 20% of the total sales.
As we enter into the fourth quarter, the market place continues to offer outstanding opportunities with respect to interest rates and affordability. More and more consumers appear to be regaining their confidence and are entering the home purchase area once again. So – are we there yet? Probably not but we are moving closer.
We will be examining these statistics in further detail over the next week in a series of blog posts. Until then, download our Market Update, our monthly examination of South Central Wisconsin's residential real estate market. We believe this guide will be a useful tool for you, providing local statistics, industry insight, and buyer and seller tips.
Category: Industry News